Smile Design was founded in 1996, is based in the northern suburbs of Athens and is a multi-dental clinic providing dental therapy services of high quality and aesthetic value.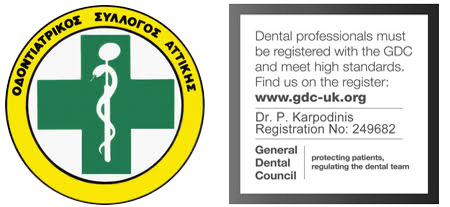 Α.Α.Α.Ε: 3195/29.5.1998* [* ΝΑΔΑ]
ΑΜ.Ο.Σ.Α: 9387
Our mission at Smile Design is to elevate your scheduled visit in our clinic to a unique experience. We promote awareness towards people with special abilities and our facilities are designed to be accessible and usable by people with disabilities. Our priority is our customers' satisfaction.
At our Multi-Dental Clinic we offer a holistic experience, leaving any sense of outdated atmosphere behind. We present our patients with an exceptional, relaxing environment. Upon entering our clinic, you won't be seeing a typical dentist's office, but a uniquely designed space, both in terms of aesthetics and form. 
Our modern facilities include state-of-the-art technology. A surgical microscope, endostomatic camera and 5 different kinds of laser! We also provide the ability for digital X-ray and a separate room for the provision of KTP laser whitening services. Furthermore, the Smile Design clinic includes a specially designed medical sterilization space, as hygiene rules are a top priority.
Lastly, there is the Summer Lounge, a dedicated outdoor living space, specially designed for you to comfortably relax and enjoy the beautiful view.
Our Multi-Dental Clinic is situated between the Nomismatokopio and Agia Paraskevi metro stations, at a short walking distance from both stations, making for an easy access and service of the northern suburban areas such as Chalandri, Agia Paraskevi and Cholargos
Smile Design Ltd has a custom-built space designated for sterilization, as hygiene rules are a top priority for us. Therefore, we are especially attentive to this sector. The sterilization room has been designed according to the European Union standards and product requirements. Our medical benches are made of stainless steel and the medical offices' walls are coated with special tiles like the ones used on hospital surgeries. We also have a state-of-the-art autoclave sterilizer, an ultrasound device, a medical bag making machine and specialized professional fluids used by all contemporary hospital units.The protection of our patients is our first and foremost concern.
Sterilization, disinfection and standard precautions taken, include:
1. Doctors use disposable latex gloves for each therapy session.
2. Doctors and nurses always wear medical mask and glasses equipment to avoid infection in case of accidental blood or other fluids spatter.
3. Our patients are provided with disposable sterile garments for every surgical procedure.
4.. On every patient we use sterile saliva ejectors, new cups, disposable needles and syringes.5. Medical equipment as well as the equipment in the rest of the spaces, all benches and floor surfaces are being cleaned and disinfected daily, using powerful sterilant and disinfecting solutions.
6. After every dental treatment all metal tools and equipments are originally placed in an ultrasound device with a phenol disinfectant solution. After this, they are withdrawn from the disinfectant and the below procedure is followed: Thorough brushing under hot water at 90 Celsius degrees. Hot water rinse and drying using special absorbent paper towels. Dry tools are being sealed into special sterilization envelopes with special markers designed to change their colour after the sterilization procedure is completed. The envelopes containing the tools are then placed into a state-of-the-art autoclave sterilizer at 121 Celsius degrees and 15 p.s.i pressure for 30'. 7. All waste products are being packaged in special quality plastic bags, while all sharp objects are being placed in special yellow plastic containers. Dangerous medical waste is being collected by a specialized medical waste management company.
8.Special precaution is taken for the asepsis of water provision and suction. Dental tables contain special mechanisms for water pipe sterilization.
9. Before entering the surgery premises, special carpets used only in general hospital surgeries are in place to collect any dust and microbes from your shoes.
10. All cutting tools as well as handles or airotors of the tools are being sterilized in the autoclave sterilizer.